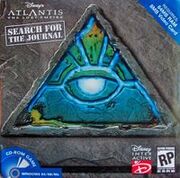 Atlantis: The Lost Empire: Search for the Journal
 (commonly known as 
Atlantis: Search for the Journal
) was developed by Zombie Studios and published by Buena Vista Games, a subsidiary of Disney Interactive. It was released on May 1, 2001 for the Microsoft Windows platform and was a first-person shooter game, the first of two games by Zombie based on the film 
Atlantis: The Lost Empire
, to which it is a prequel. It covers the search 
Milo
's grandfather, Thaddeus Thatch, took toIceland to find the journal. It was released for free by exchanging UPC labels from Kellogg's products for promotion. Disney also offered the game as a free download through its website through July 2001.
Ad blocker interference detected!
Wikia is a free-to-use site that makes money from advertising. We have a modified experience for viewers using ad blockers

Wikia is not accessible if you've made further modifications. Remove the custom ad blocker rule(s) and the page will load as expected.