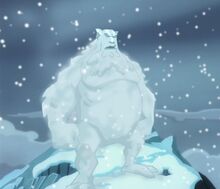 Ice Beast
Edit
Ice Beast
[[Image:|250px]]
Background Information
Birthdate
Norway
Birthplace
Ice Mountines
Gender
male
Family
Frost Giant
Occupation
Freez Milo Tatchs team
Status
dead
Character Information
Voiced By
Supervising Animator
Ice Beast was a Frost Giant being from Nordic Myths to apear alongside Surtr a Lava Beast aka Fire demon in Atlantis : Milos Return Disney animaited 2003 movie.It was brought to life by Gunginr a ancient Atlantian spear weapone used by Eric Hellstrom who thought he was Odin the All Father Norse God.He used this Ice Beast and Lava Beast to start Ragnorak ( End of World ), but he and Surtr were destroyded when Kida used Gungnir on them thus stoping Ragnorak.
Ad blocker interference detected!
Wikia is a free-to-use site that makes money from advertising. We have a modified experience for viewers using ad blockers

Wikia is not accessible if you've made further modifications. Remove the custom ad blocker rule(s) and the page will load as expected.